Spent a late afternoon at Aquatic Park lying in the sand. It was gorgeously warm, and then a thin river of fog started pouring past the Golden Gate Bridge. Perfectly sunny in our little sheltered cove while the fog river got thicker & streamed in further, cargo ships blaring their horns as they emerged from the mist — I also watched them on the Marine Traffic app.
Best trick – brought a stretchy skirt to put on over my jeans. Then took off the jeans. Instant beach readiness. I also had on my new sandals (with socks in my bag for evening) so I could admire the little flower and jewel on my super glam copper painted toenails in the sun.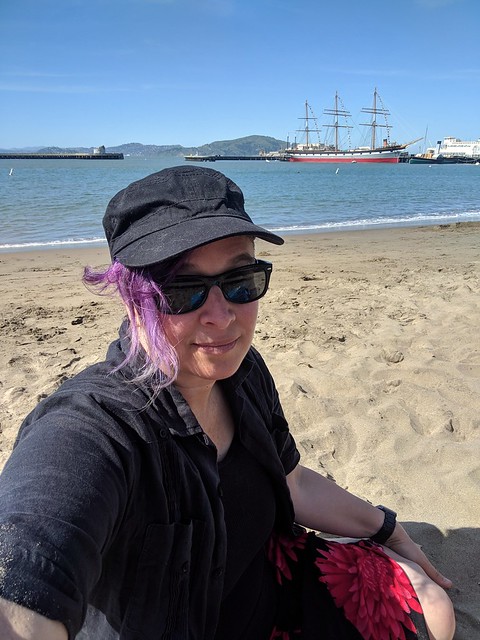 I love watching people get into position to take photos of their day with loved ones & friends. It's specially beautiful.
A little girl spent about half an hour running up and down the beach after seagulls, waving a stick, screaming "Please be my pet! PLEASE be my pet! Maybe YOU want to be my pet!" She didn't give up hope! I love her!
Many people don't know how to be at a beach with small children. Please, stop yelling at them not to get dirty or wet! Just take off their shoes, socks, and pants and let them run around. OMFG. Yes – I'm judging! Then brush them off and put their clothes back on, problem solved. Nobody cares if they see your 5 year old's underpants at the beach!!!!! (To be fair I basically grew up on a beach so…. maybe it just doesn't occur to them.)
One mom who did exactly this was in the "brushing off the toddler and his older sister" phase. Having spent really too long cleaning the smaller one, she focused on the sister while the drooling toddler flung himself face down back into the sand right next to me. Total sandface. I was lying with my face in the sand myself and as the mom gasped in horror I demonstrated to the baby that I too had sand all over, and we stuck out tongues at each other. Best mom . . . as she didn't yell at her children … and didn't mind my exchanging saucy facial expressions with the baby.
Later at home I realized i had gotten sand everywhere and I could magically hear my grandmother's voice in my head from 40 years ago. "Ugh!!!! SAND!!!!" I'd be thinking, you have 2 kids in your beach house… at a beach. Duh, there is sand. It's amazing how you can hear someone's voice in your head, even when they are long gone. Sometimes when I'm lying in the sand I also think of my Aunt Gilda who would take us with her to the fancier part of Town Beach (Canonchet) where she had a cabana to change in (oh, so fancy!) She seemed so old to me, and probably was (she was my grandma's aunt, really, so my great-great aunt) but she looked super glamorous in her beach chair, very tan, huge floppy hat and sunglasses, chain-smoking.
At my other grandparent's beach house which they bought when they moved back to the U.S. there was an outdoor shower which sprayed onto a huge rock with a distinctive shape, sort of flat and good to stand on but with an unevenness in the middle, and I would stand on it thinking that it was from a glacier, so if I were able to travel in time I would be actually inside the glacier and then in very slow motion would sink down, down, while the glacier melted around me. There were similar rocks in Wesquage Pond just across the street where my uncle and cousin and sister and I would play a game where we each owned a rock for our home base. To go on someone else's rock you had to pay a certain number of reeds. I wonder if these rocks are underwater now or if you can still hop from rock to rock… (inside a glacier of course.) The outdoor shower was much better than my other grandma's house where you had to get brutally hosed off on the lawn before going inside. (Really, so much sand. And, while I'm complaining, I'd like to give a special mention to the way that even little kids bathing suits had a sort of pocket in the crotch (why???) which would collect FISTFULS of sand.)
Well, anyway, Danny came to meet me after work & we wandered around – ended up having fish & chips at a pretty nice place – and a giant mai tai.
Notably, I am feeling a lot better! Better enough to go off on an expedition in the afternoon (hour long bus ride) and stay out in the evening a little! Much improved.